Hey there - Happy Monday...
I'm gonna get a little sentimental for a moment…
I was updating the description for the podcast with the New Media Associate, and when I added some of the guests we've had this year to the description, I got really emotional… and tired… lol
We have been so deeply in go mode, but being able to write this list when a year ago at this time, we didn't have this podcast the way we have it now at The Public, and I was newly promoted and Line Producing the Gala…. Never in my wildest dreams did I imagine that this season would bring forth a description like this…
DIVE DEEPER WITH PUBLIC SQUARE 2.0
This season, The Public Theater's Podcast came back!  Get a behind-the-scenes look and investigate process with our artists and staff.  This season's guests included: Suzan-Lori Parks, Robert O'Hara, Delfeayo Marsalis, Oskar Eustis (Final Episode that drops on the 15th) and Tony Award nominees: Emilio Sosa, Nikki Crawford and Saheem Ali! … and more!
Listen, wherever you find your podcasts or at thepublic.nyc/Public Square
Public Square 2.0 is Hosted by Garlia Cornelia Jones, Director, Innovation and New Media
_____
The podcast is only one portion of Innovation and New Media - but I am really proud of this work and these episodes (Currently 16 - will be 17 after June 15th) and how we are sharing our mission beyond the theatres so many New Yorkers know and love.  It has been my goal to invite new audiences in by sharing what we are doing - even in conversation in a digital way.
If you are reading this post and you haven't yet done so, I hope that you will take a moment to connect with the podcast and this season's episodes.
Share them if you enjoy them and please leave us a review or a rating.
I am incredibly grateful to the team that puts this podcast together.  Here is a photo from our Pilot episode featuring Suzan-Lori Parks and the retiring Production Executive, Ruth Sternberg.  There's not many projects I do without John (and Amber, but she is not pictured here), these days.  When I knew I wanted to do a podcast, I called John - we were already working on Obsidian Theatre Festival, and the Black Motherhood and Parenting New Play Festival, and it was important to have a Bipoc and growing production team in Ghostlight Creative Productions.  We also co-wrote a song for the #24hourViralMusicals in 2021... but I could write a book on all that later.  Anyway, Artistic Partnerships like this are rare and I do not take them for granted.
Since I'm in a bit of a sentimental and mushy mood, I'll pause for now...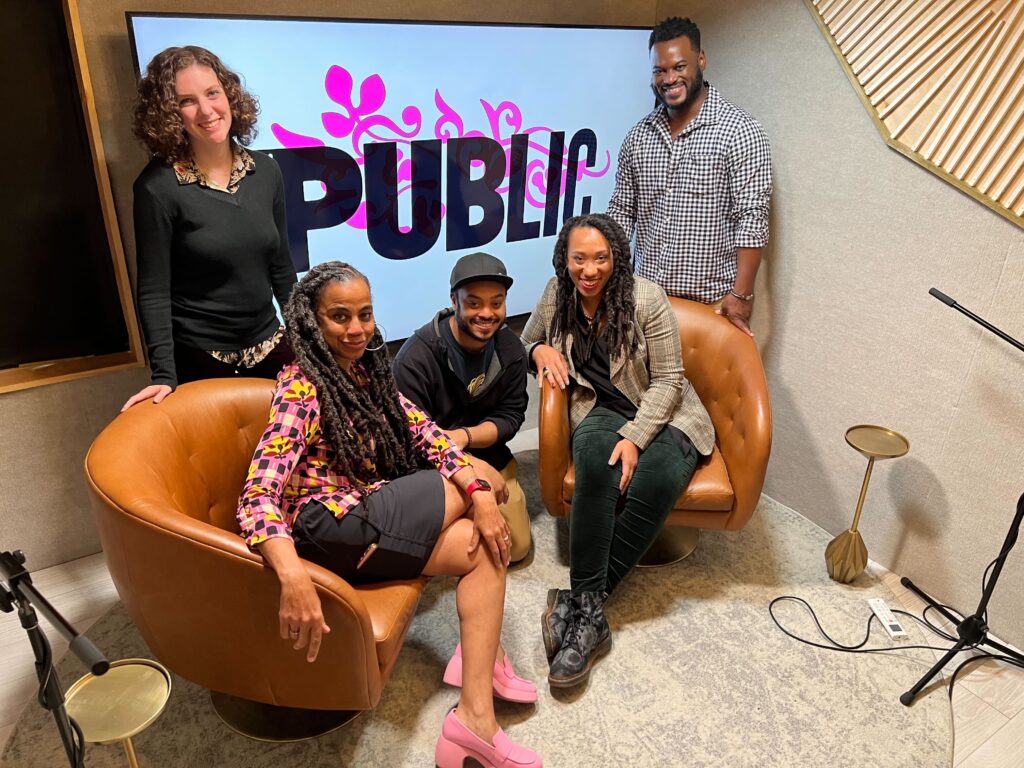 As we get ready to end this season on the 15th, I will spend some time re-capping each episode here, including the links, behind-the-scenes photos and the video episode.