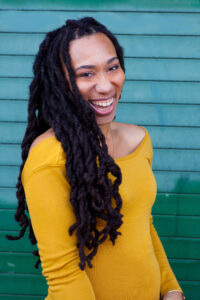 Garlia is an OBIE Award Winning Theatre Producer and native Detroiter who was introduced to theatre and the arts at an early age, through her Father, who, in addition to teaching for over 60 years, directed The Corunna Festival Chorale for over 20 years, and The American Festival in Britain before that, allowing suburban Detroit and urban High School students the opportunity to perform Shakespeare in London.  With this influence at home, Garlia was eager to develop on her own in the theatre and began working on the plays in high school with the Marian Rice Players.  By her Senior year, she was the Student Producer.  Garlia went onto attend Indiana University in Bloomington, Indiana (IUB), graduating with a Bachelors in Theatre and Drama / English Double Major.
During her undergraduate, Garlia founded Black Curtain, a group devoted to Black Theatre on the IUB campus.  Black Curtain's first production was "A Raisin in the Sun", which Garlia directed.  In addition to promoting Black Theatre through original and established plays, Black Curtain devoted much of its time to Diversity training and cross cultural communication as well as HIV/AIDS awareness that culminated in a benefit concert, RedVolution, co-hosted by former MTV VJ, Quddus.
 All of this while Garlia was working on her MA in African American and African Diaspora Studies.  Garlia and Black Curtain received a number awards from the departments and institutions within the University during her tenure with Black Curtain.
After beginning her MFA in Playwrighting at The New School for Drama in New York, Garlia saw a need for Black Playwrights in the city and founded Blackboard Reading Series in September 2008 at the cell, a non-profit, Twenty First Century Salon and incubator in Chelsea. 
Garlia graduated from The New School in 2010 and began working with a group of Black Producers in Harlem that Fall, the group later called themselves Harlem9 and produces an annual event, "48Hours In... Harlem", a twist on the traditional 24-hour play festival.  In 2014, one week shy of her due date with her second child, Harlem9 received an OBIE Award for their Annual Event.
Garlia lives with her family in New York.